When:
June 12, 2020 @ 9:00 am – 11:00 am
2020-06-12T09:00:00-04:00
2020-06-12T11:00:00-04:00
Where:
zoom.us (link will be provided)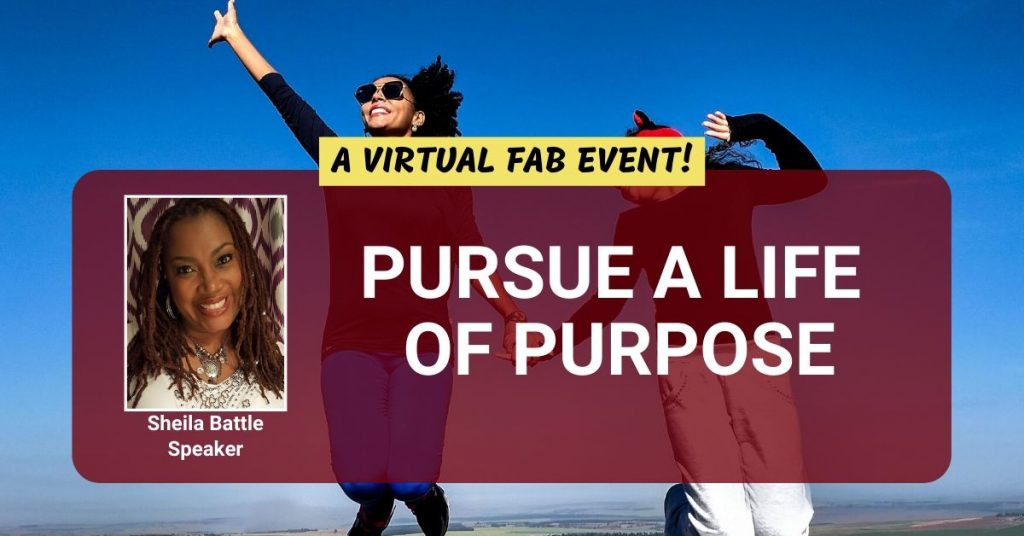 The dictionary gives us two definitions of the word "purpose." The first is a noun and simply states, "a reason something is done or created." The second is a verb and states, "one's intention or objective." There is no question that we were each created with a purpose, but are you actively pursuing it? We live in a world where we often base our actions on the approval of others. But, to move toward your purpose, to actively seek it, only requires one person – YOU.
FABWOMEN is excited to welcome Sheila Battle, a TEDx Speaker, transformational Leader, and published Author as our speaker for our June event. Sheila works with women daily to help them live out their purpose, allow grace, and embrace self-love.
In this presentation, you will learn the simple steps to
Exchange Fear for courage
Understand your purpose and why it matters
How to give yourself 15 minutes of grace every day
Shelia's fusion of real-life stories and conversational techniques will have you feeling energized, uplifted, and motivated.
Ready to experience a virtual meeting with some FAB energy? Then join us. Oh! if you are a first-time guest, please contact us for complimentary registration.
---
THANKS TO OUR CORPORATE SPONSORS: