When:
December 11, 2020 @ 9:00 am – 11:00 am
2020-12-11T09:00:00-05:00
2020-12-11T11:00:00-05:00
Where:
zoom.us (link will be provided)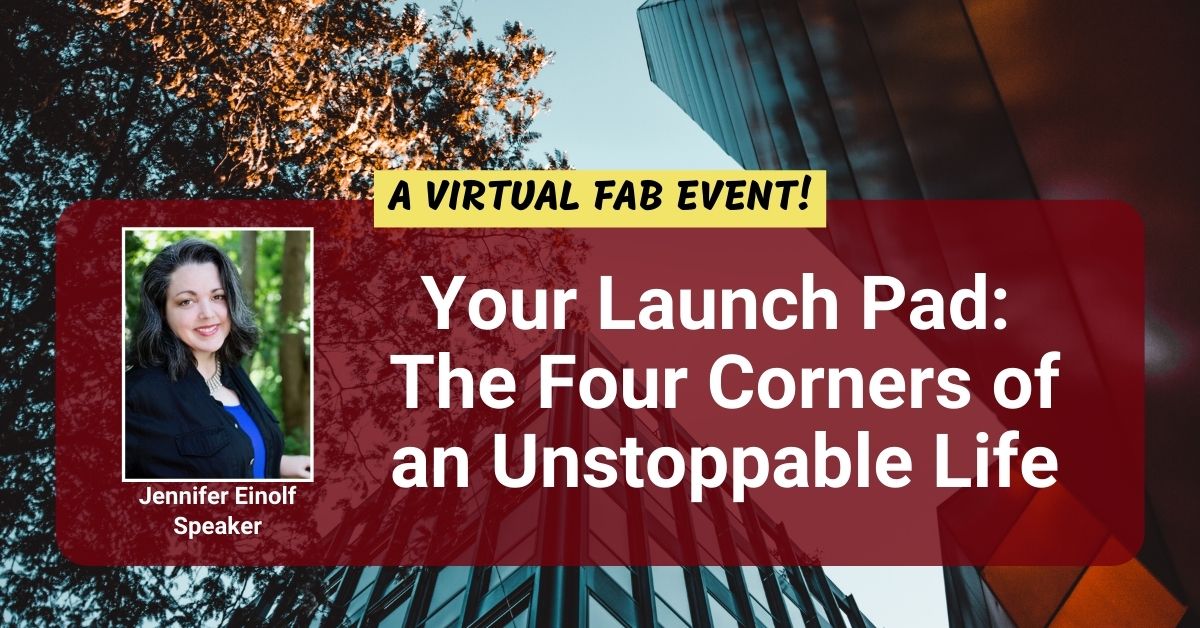 The attention you pay to the four key areas of your life determines your stamina, your resilience, and your effectiveness as you pursue your goals.  Before you set your intentions for 2021, ensure that all four corners of your foundation are firmly in place.
The four foundation corners—Focus, Function, Energy, and Heart—shore up the platform on which your entire life is built—personal relationships, professional contribution, impact, influence, and personal satisfaction. 
When any one of these corners is neglected, your foundation begins to wobble. When they are all strong, you can become unstoppable.
Join us at our Dec FAB event as we invite Jennifer Einolf to be our guest speaker. This presentation will be an interactive, insight-driven session to create your plan for a foundation built like a launchpad.  In this presentation, you will:
Learn how the four pillars of your foundation support (or undermine) your best life

Identify practices, tools, and habits that can exponentially grow your focus and energy

Engage in energizing breakout sessions to benefit from peer support

Leave with a plan for 2-4 tools you will implement to build your foundation launch pad
Are you ready to take off? Leave 2020 behind and start 2021 with a BANG! All you need to do is click the button below and register. Let's lift-off together! ​
​Oh! if you are a first-time guest, please contact us for complimentary registration.
THANKS TO OUR CORPORATE SPONSORS:
THANKS TO OUR EVENT SPONSORS: