May
26
Tue
2020
May ConFAB – Nothing Has Changed, It's Just Different: Balancing Focus and Agility

@ Zoom meeting
May 26 @ 7:30 pm – 9:00 pm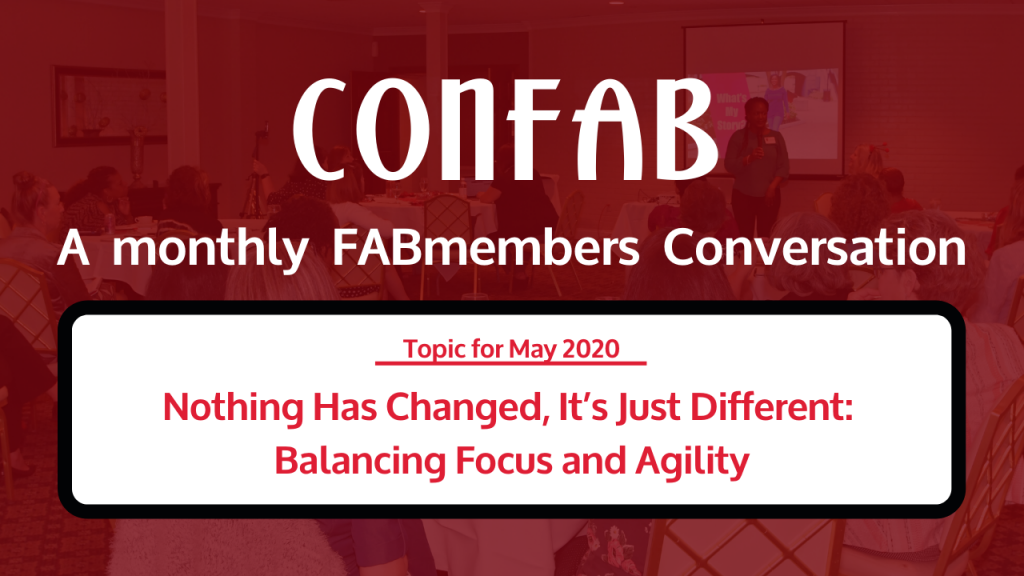 Explore Our May ConFAB Topic:  
Nothing Has Changed, It's Just Different: Balancing Focus and Agility
You had your goals (or at least your dreams).  You knew what your work was and what you needed to be doing.  And then everything changed.
The powerful tool of focus rivets us to a desired outcome and martial all our resources to that one thing.  Agility allows us to flexibly address a shifting landscape of opportunities and challenges.  How do we balance the two?
Join us as we consider:
How has focus changed for you?
Why is it harder (or easier) to focus now?
How can we create plans, cast vision and craft goals when so much is uncertain?
ConFAB is FABWOMEN's monthly virtual conversation with its members from around the world.
*** Registration is not required to attend ConFAB. Please check the event page in our FABWOMEN Members Only group on Facebook for the Zoom link so you can join in the conversation on May 26th. ***