Nov
24
Tue
2020
November ConFAB

@ Zoom meeting
Nov 24 @ 7:30 pm – 9:00 pm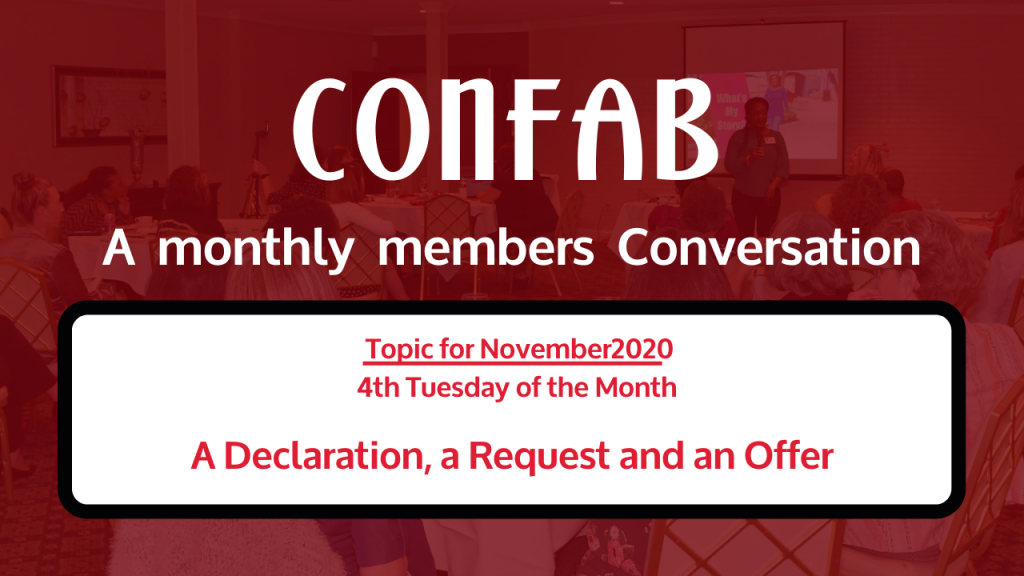 ConFAB is a virtual conversation with
FAB
members from around the world. Exclusive for
FABWOMEN
members, it is held on the 4th Tuesday of each month. Explore Our November ConFAB Topic:
A Declaration, a Request, and an Offer
As we head into the last month of the year, we are going to give each other the gift of a little time. This is your opportunity to make a declaration and have it heard.  Are you planning something big for 2021?  ("I will triple my income this year.") Is there something small you just want us all to hear?  ("I am going to clear off the kitchen counter this week."). This is also your opportunity to make a request- for  resources, ideas, opinions or support.  Again, it can be big or small. And then, finally, this is your opportunity to make an offer.  It might be an offer in response to someone else's request or it might be an offer you come prepared to make. Join us as we support each other and bring… A declaration, A request, And An offer
*** Registration is not required to attend ConFAB. Please check the event page in our FABWOMEN Members Only group on Facebook for the Zoom link so you can join in the conversation on November 24th. ***
Dec
2
Wed
2020
FAB Lunch Chat

@ Zoom meeting
Dec 2 @ 12:30 pm – 1:30 pm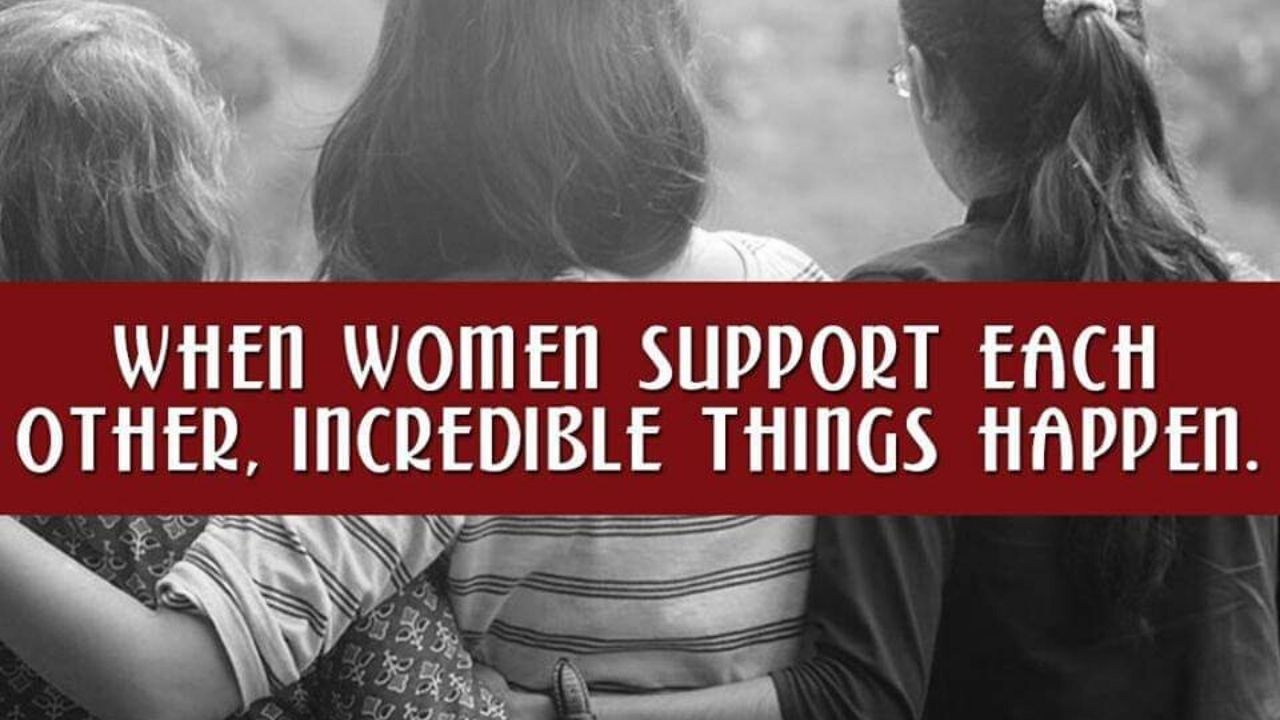 This week our FAB Robin Kaczka will be leading a conversation on
Review your achievements and opportunities from 2020 to plan for 2021. Remembering what worked well is equally, if not more, important than remembering what was missed or lost. One of the most challenging years for the world, we also have much to remember with satisfaction and joy.
♦️ Members can invite a guest who they think could benefit from the conversation. ♦️
Dec
11
Fri
2020
Your Launch Pad: The Four Corners of an Unstoppable Life

@ zoom.us (link will be provided)
Dec 11 @ 9:00 am – 11:00 am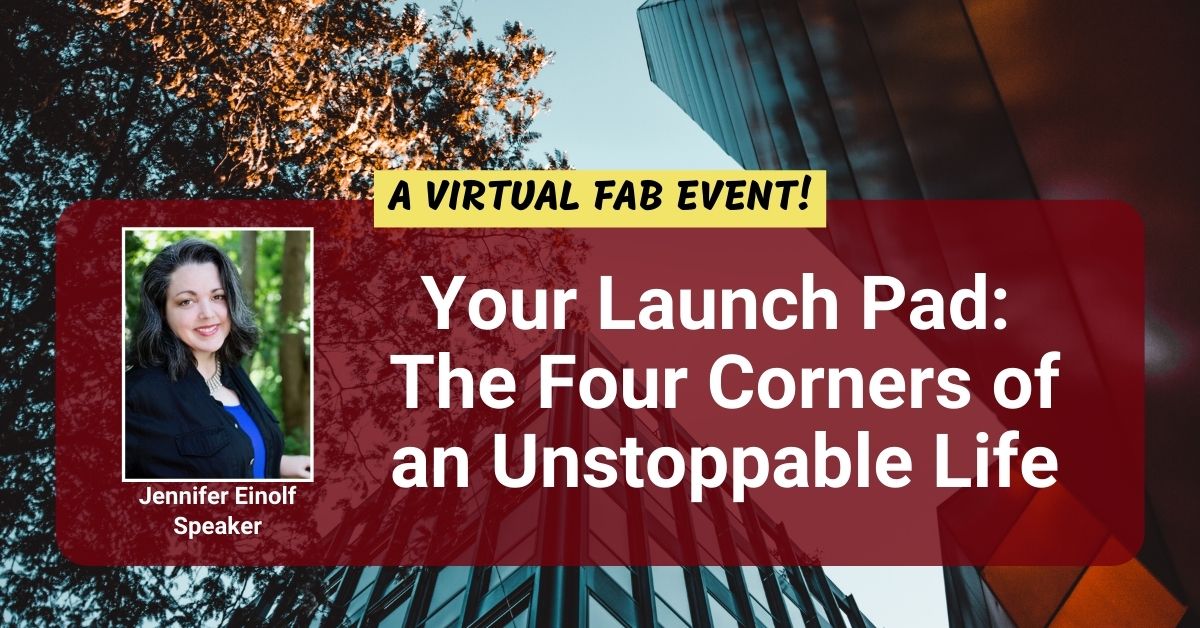 The attention you pay to the four key areas of your life determines your stamina, your resilience, and your effectiveness as you pursue your goals.  Before you set your intentions for 2021, ensure that all four corners of your foundation are firmly in place.
The four foundation corners—Focus, Function, Energy, and Heart—shore up the platform on which your entire life is built—personal relationships, professional contribution, impact, influence, and personal satisfaction. 
When any one of these corners is neglected, your foundation begins to wobble. When they are all strong, you can become unstoppable.
Join us at our Dec FAB event as we invite Jennifer Einolf to be our guest speaker. This presentation will be an interactive, insight-driven session to create your plan for a foundation built like a launchpad.  In this presentation, you will:
Learn how the four pillars of your foundation support (or undermine) your best life

Identify practices, tools, and habits that can exponentially grow your focus and energy

Engage in energizing breakout sessions to benefit from peer support

Leave with a plan for 2-4 tools you will implement to build your foundation launch pad
Are you ready to take off? Leave 2020 behind and start 2021 with a BANG! All you need to do is click the button below and register. Let's lift-off together! ​
​Oh! if you are a first-time guest, please contact us for complimentary registration.
THANKS TO OUR CORPORATE SPONSORS:
THANKS TO OUR EVENT SPONSORS: