May
26
Tue
2020
May ConFAB – Nothing Has Changed, It's Just Different: Balancing Focus and Agility

@ Zoom meeting
May 26 @ 7:30 pm – 9:00 pm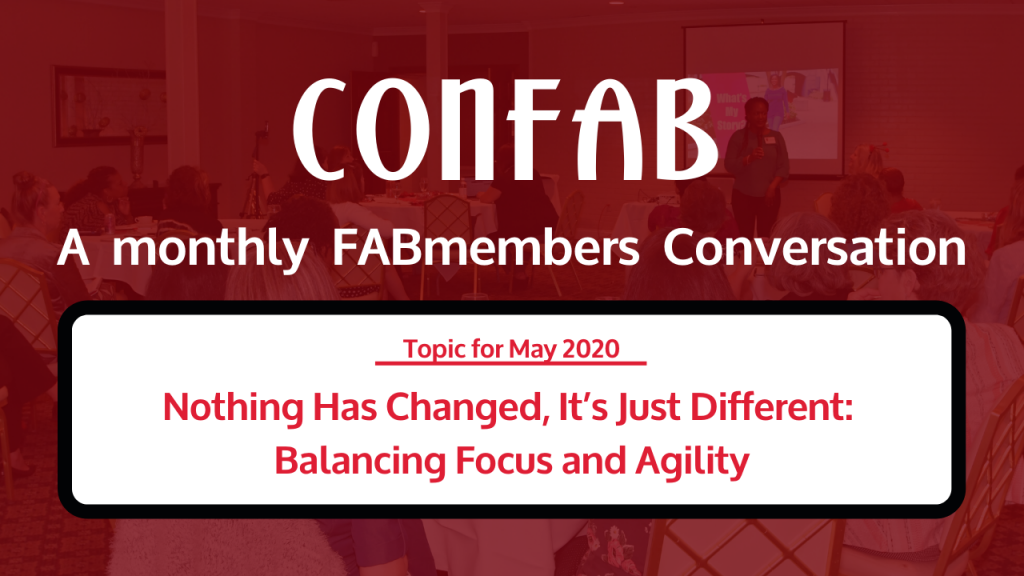 Explore Our May ConFAB Topic:  
Nothing Has Changed, It's Just Different: Balancing Focus and Agility
You had your goals (or at least your dreams).  You knew what your work was and what you needed to be doing.  And then everything changed.
The powerful tool of focus rivets us to a desired outcome and martial all our resources to that one thing.  Agility allows us to flexibly address a shifting landscape of opportunities and challenges.  How do we balance the two?
Join us as we consider:
How has focus changed for you?
Why is it harder (or easier) to focus now?
How can we create plans, cast vision and craft goals when so much is uncertain?
ConFAB is FABWOMEN's monthly virtual conversation with its members from around the world.
*** Registration is not required to attend ConFAB. Please check the event page in our FABWOMEN Members Only group on Facebook for the Zoom link so you can join in the conversation on May 26th. ***
Jun
12
Fri
2020
Pursue A Life Of Purpose

@ zoom.us (link will be provided)
Jun 12 @ 9:00 am – 11:00 am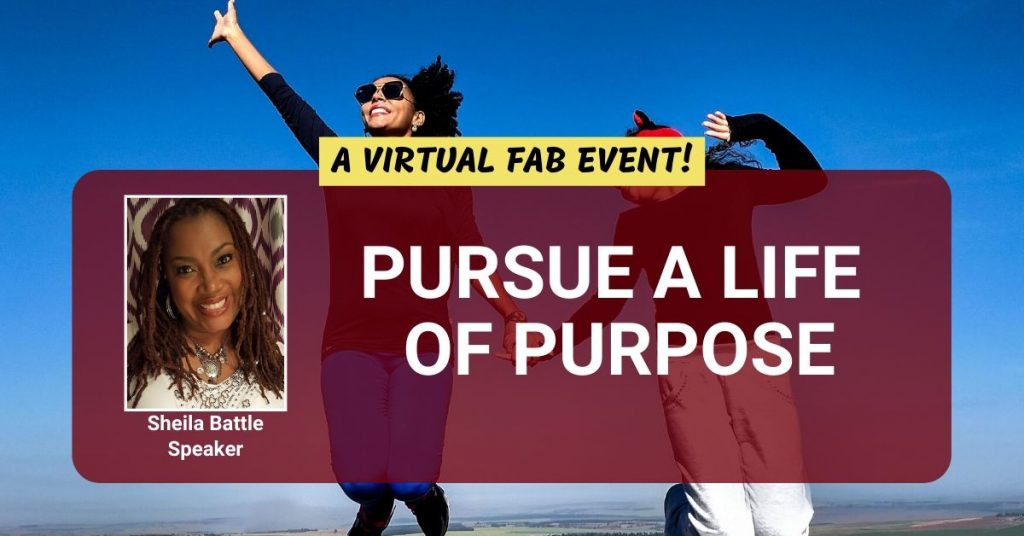 The dictionary gives us two definitions of the word "purpose." The first is a noun and simply states, "a reason something is done or created." The second is a verb and states, "one's intention or objective." There is no question that we were each created with a purpose, but are you actively pursuing it? We live in a world where we often base our actions on the approval of others. But, to move toward your purpose, to actively seek it, only requires one person – YOU.
FABWOMEN is excited to welcome Sheila Battle, a TEDx Speaker, transformational Leader, and published Author as our speaker for our June event. Sheila works with women daily to help them live out their purpose, allow grace, and embrace self-love.
In this presentation, you will learn the simple steps to
Exchange Fear for courage
Understand your purpose and why it matters
How to give yourself 15 minutes of grace every day
Shelia's fusion of real-life stories and conversational techniques will have you feeling energized, uplifted, and motivated.
Ready to experience a virtual meeting with some FAB energy? Then join us. Oh! if you are a first-time guest, please contact us for complimentary registration.
---
THANKS TO OUR CORPORATE SPONSORS: