Nov
26
Tue
2019
November ConFAB – The Myth of Work/Life Balance: Surviving Doing All The Things

@ Zoom meeting
Nov 26 @ 7:30 pm – 9:00 pm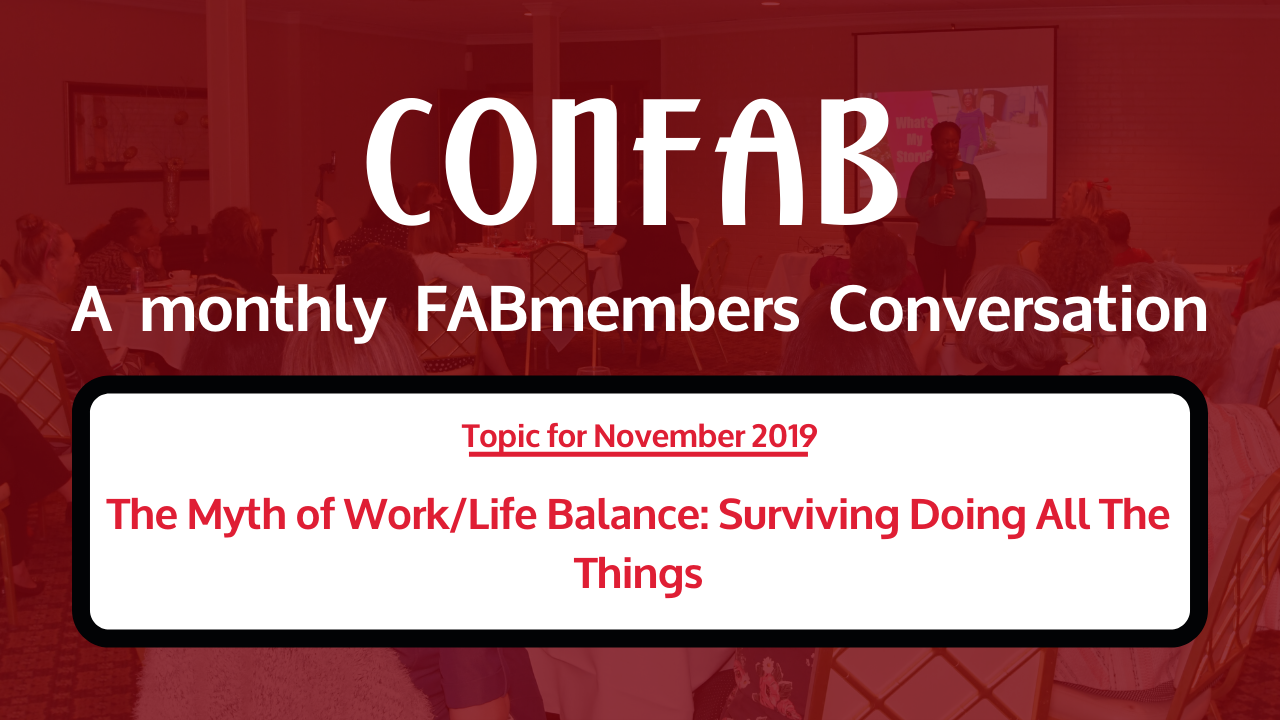 Explore Our November ConFAB Topic:  
The Myth of Work/Life Balance: Surviving Doing All The Things
Look at the list of your commitments and involvements.  Are you running a business, working on your career, taking care of family members, involved in volunteer roles, finding time for self-investment, maintaining your social network, fielding requests and writing the Great American Novel?  Are you too busy to even compile the list?
How do we set good boundaries and figure out where the "No" lives?  Do you feel like you even have permission (from others or from yourself) to say no?  How do you manage what you need to manage, accomplish what you need to accomplish and remain healthy and calm?
We will discuss the elusive state of balance in our monthly ConFAB call.  We share our challenges and opportunities, discuss our learning and our successes, and uncover insights that can help us, one and all, live a happier, more productive, more fulfilling life.  That's not too much to ask, is it?
*** Registration is not required to attend ConFAB. Please check the event page in our FABWOMEN Members Only group on Facebook for the Zoom link so you can join in the conversation on November 26th. ***
Dec
13
Fri
2019
Do You Have 2020 Vision?

@ Meadowbrook Country Club
Dec 13 @ 8:45 am – 11:00 am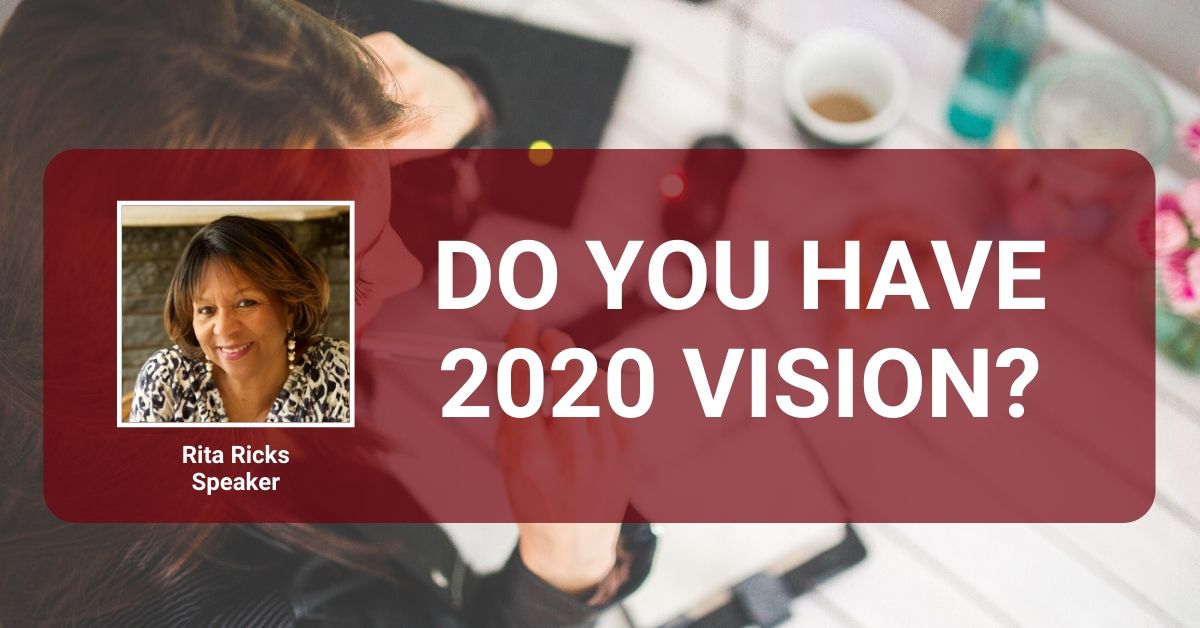 Have you started thinking about your goals for next year?
Do you have a plan of what will you do to achieve those goals?
Are you ready to create your 2020 Vision?
If so, now is the perfect time to do so! You are the CEO of your life.  YOU create your reality.  Without a vision, it's challenging to make clear, specific decisions as to precisely what is right for you and what is toxic. Without a vision, you spend time wishing and hoping you'll get what you want.  With a clear, well thought out vision, you'll be intentional about getting what you want.
The critical 1st step towards clarity is to "BURN"…Let Go, of whatever is holding you back. Step 2 is to begin imagining YOU in your 2020 vision. That is why our guest Speaker for our December event is Rita Caldwell Ricks. Rita has a gift of using her wisdom, wit, energy, and encouragement as the catalyst to inspire her listeners to renew the person within. She speaks to your spirit by sharing her own life experiences. She is a Spiritual Business Coach, Inspirational Speaker, Host of "Speaking to your Spirit" on Amazon Prime,  Workshop Facilitator, Award-winning Entrepreneur and the author of two books – PERMISSION GRANTED! A JOURNAL OF SPIRITUAL EPIPHANIES and #JUSTFORTODAY.
In this presentation, you will:
Identify how to remove barriers preventing you from moving forward

Gain clarity, focus, and direction

Be shown the tools to create your 2020 vision
All you have to do is bring yourself, a journal, and an eagerness to focus on you.  It's your time. Register below!
---
Dec
19
Thu
2019
FABWOMEN Christmas Party
Dec 19 @ 6:00 pm – 8:00 pm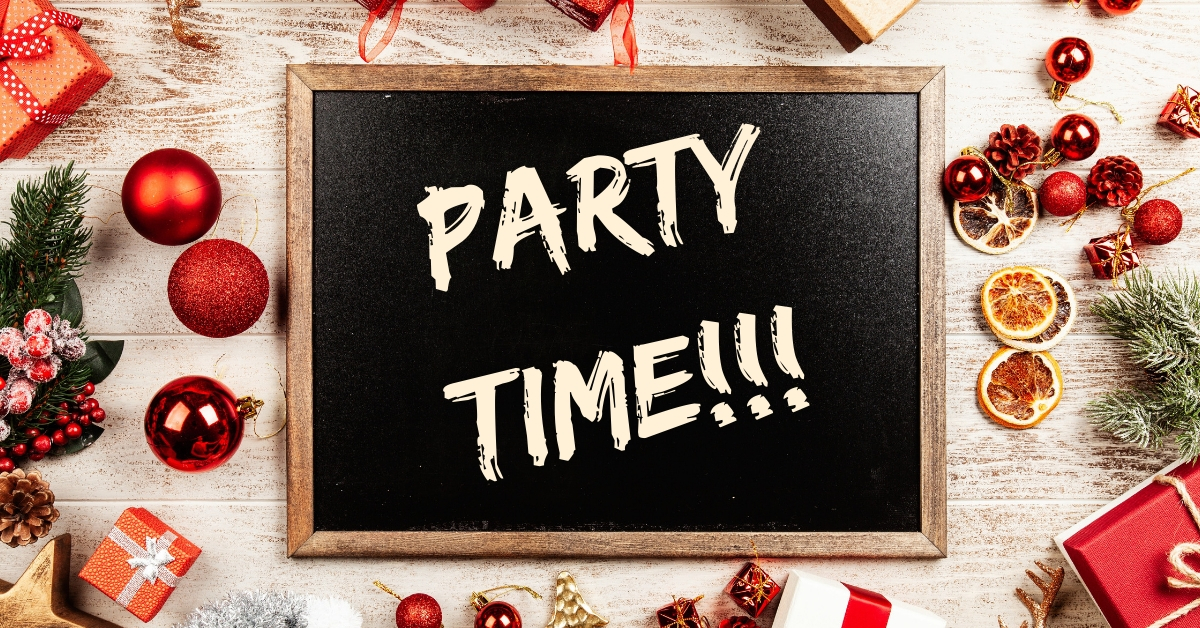 Lets celebrate the Holiday Season FAB Style! We are so fortunate that our very own Emilie Kamachi has agreed to host this party 🙂
What to bring? Please bring a snack or dish to share as well as gift valued at $20 or less.
We will be doing our fun white elephant gift exchange. It is amazing the things we learn from our members when it comes to keeping or "stealing" gifts :). Come ready to connect and laugh with all your amazing FAB friends!