Aug
27
Tue
2019
August ConFAB – Perfection and Vulnerability: Being Authentic in a Sometimes Fake World

@ Zoom meeting
Aug 27 @ 7:30 pm – 9:00 pm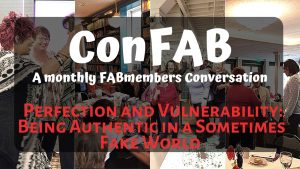 Explore Our August ConFAB Topic:  
Perfection and Vulnerability:  Being Authentic in a Sometimes Fake World
How do we balance the way that we communicate in networking, on social media and in our professional messaging.  When we are willing to show our mess and be vulnerable it can be more possible to create connection with people who relate to our struggle. At the same time, we need to exude confidence and capability in order to reassure our audiences that we are an expert, a professional, a person with all our ducks in a row.  How do we decide how to balance authentic and appropriate—and who decides what's appropriate anyway?  
Looking forward to the conversation.
*** Registration is not required to attend ConFAB. Please check the event page in our FABWOMEN Members Only group on Facebook for the Zoom link so you can join in the conversation on August 27th. ***
Sep
13
Fri
2019
Come Find Your FAB

@ Meadowbrook Country Club
Sep 13 @ 9:00 am – 4:00 pm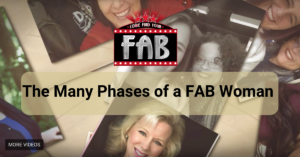 Come Find Your FAB 2019
The Many Phases of a FAB Woman
As women we tend to do it all. We are mothers, sisters, spouses, business owners, caregivers, entrepreneurs, executives, and the list goes on. Sometimes all these roles can take a toll on us and leave us exhausted and overwhelmed. We are always in a different phase of our life.
That is why the theme of this year's annual kickoff event, Come Find Your FAB, is "The Many Phases of a FAB Woman" and all that we do. This event is your opportunity to learn from, be inspired and enjoy the experiences of other highly motivated women like you, while taking a breath to enjoy the phase you currently are in. We have an incredible line-up of amazing speakers, plus many more surprises to come.
Early Bird Pricing offer until July 14, 2019!