Mar
12
Fri
2021
Social Media Myths Busted: Unraveling the assumptions about Social Media for Business

@ zoom.us (link will be provided after registration)
Mar 12 @ 9:00 am – 11:00 am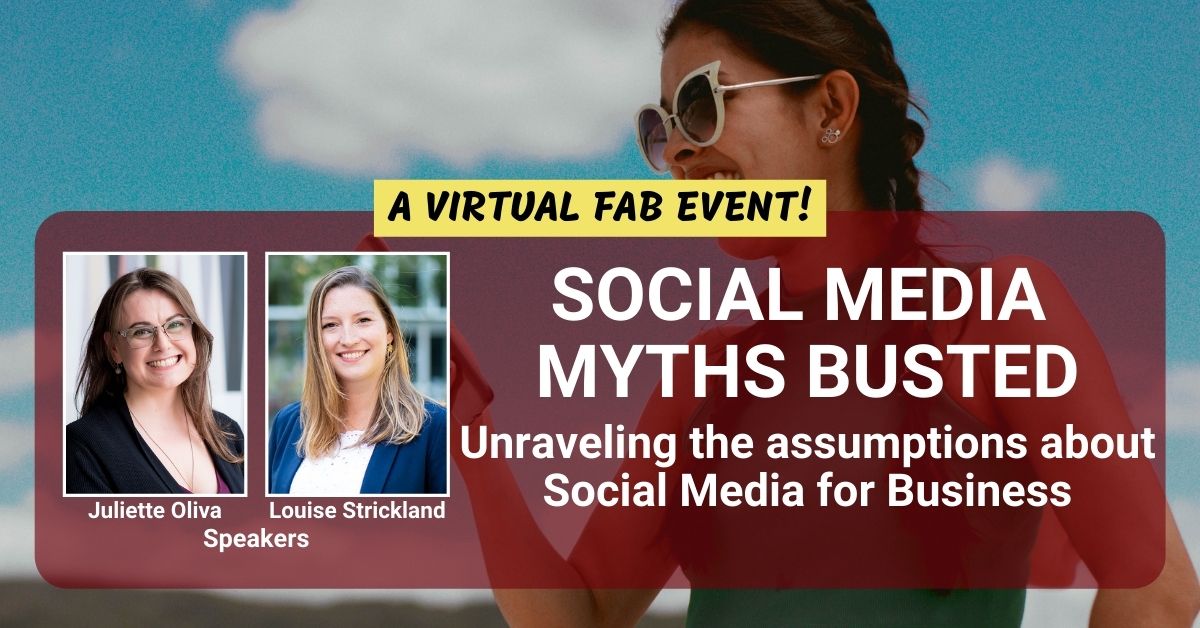 The world of social media can be many things: exciting, confusing, uplifting, overwhelming, time-consuming, and useful, especially when it comes to digital marketing. In today's increasingly online world, social media is one tool that certainly can't be overlooked when it comes to reaching an audience.
As a professional, you know the importance of social media, yet it can be overwhelming to navigate all the apps you have to manage, choose the right platform, or ensure your return on investment.   That's why we have invited Juliette Oliva and Louise Strickland, owners of Pixelstrike Creative, to speak at our March FAB event. In this interactive presentation, Juliette and Louise will bust the myths about social media platforms and lift the veil on some key insights that will help you think strategically, minimize the social stress, and get you started on the right track. By attending this virtual presentation, you will have a renewed excitement about using social media as a digital tool to share your message, product, or service and grow your business and online presence.
In this presentation, you will:
Gain confidence in reviewing your content strategy and analytics to identify areas of improvement.

Learn which platforms are ideal for YOUR audience

Repurpose content in different ways to take the stress out of content creation.
You don't need to be a tech guru or social media star to make an impact. All you need to do is click below and register! Let's do this together
Oh! if you are a first-time guest, please contact us for complimentary registration.
THANKS TO OUR CORPORATE SPONSORS:
Mar
23
Tue
2021
March 2021 ConFAB

@ Zoom meeting
Mar 23 @ 7:30 pm – 9:00 pm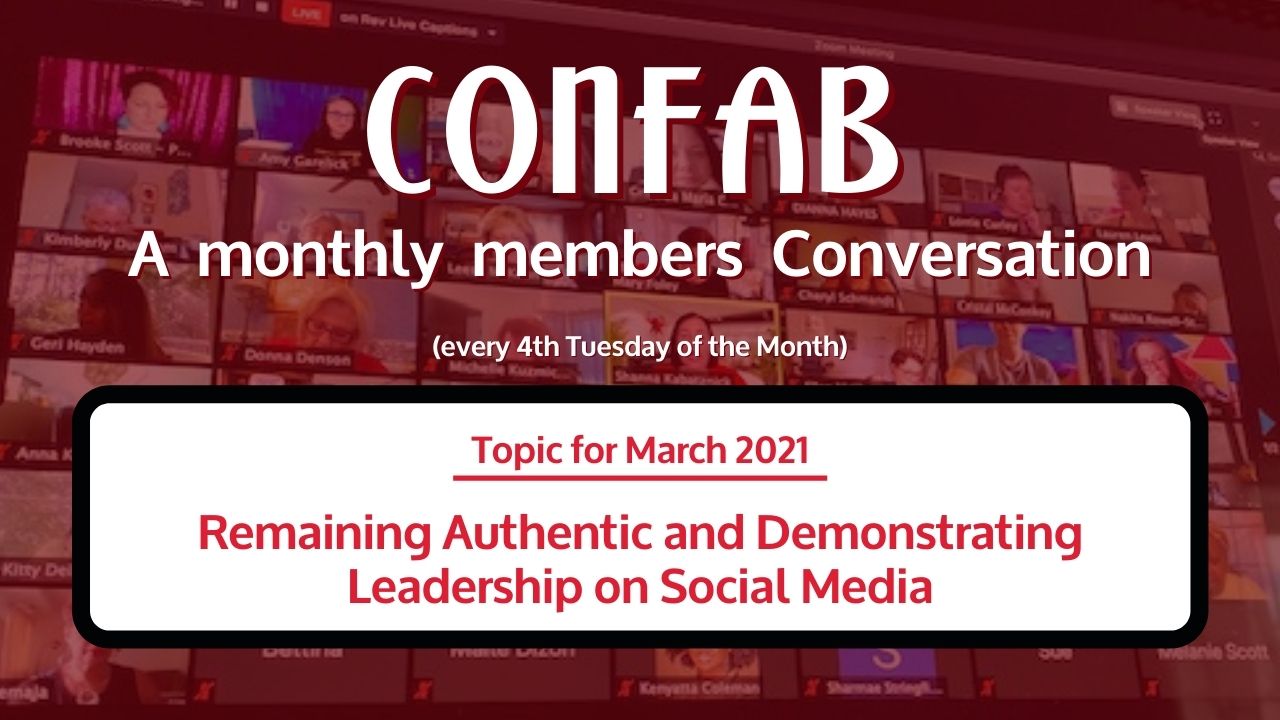 ConFAB is a virtual conversation with FABmembers from around the world. Exclusive for FABWOMEN members, it is held on the 4th Tuesday of each month.
The topic for March is: Remaining Authentic and Demonstrating Leadership on Social Media
We have enjoyed speakers who have helped us learn best practices for using social media.  As we engage with others on these platforms—responding, reacting, interacting, and posting—we want to pay attention to the impact we are having.
We are going to discuss leadership, authenticity, reputation, engagement, credibility, exposure, and even fun on social media.  
Come prepared to share stories of success, questions and concerns.  
*** Registration is not required to attend ConFAB. Please check the event page in our FABWOMEN Members Only group on Facebook for the Zoom link so you can join in the conversation. ***
Apr
9
Fri
2021
Connecting the Dots to Your Mental Wellness

@ zoom.us (link will be provided after registration)
Apr 9 @ 9:00 am – 11:00 am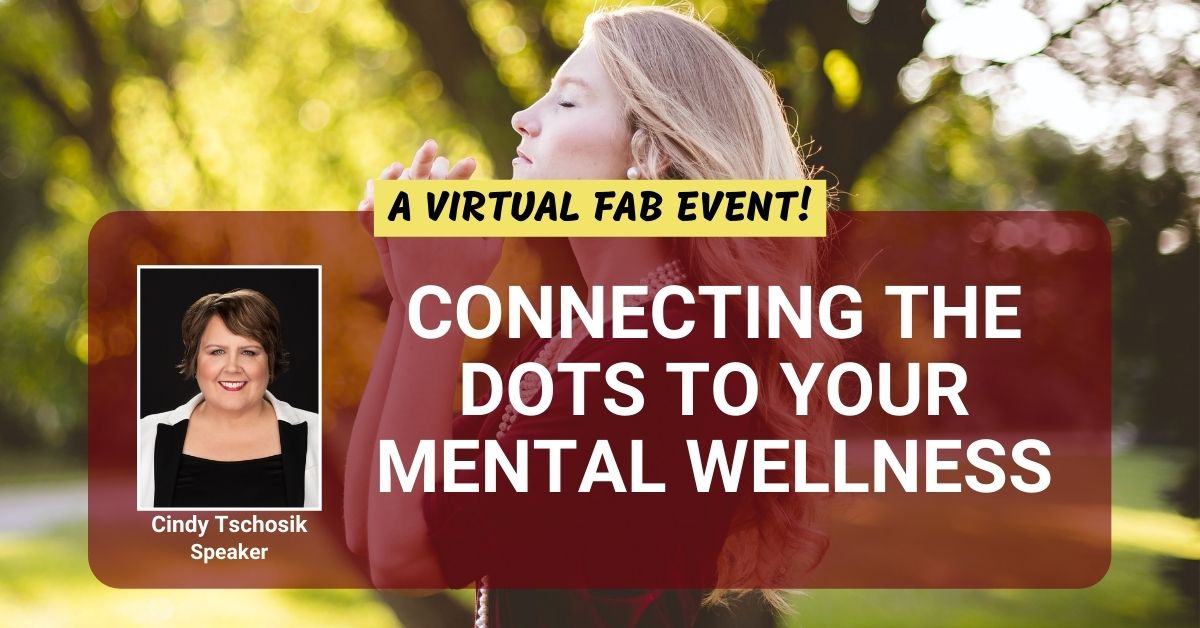 Did you know last year was the year for everyone to take a serious look at mental health and how to apply best practices?
Did you know that mental wellness checks are as important as brushing your teeth?
Oftentimes through life, we accept our behaviors, feelings, and frustrations as our "new norm" without even realizing it. We can lose who we are by going with the motions and living a less-than-ideal life.
FABWOMEN knows mental health is a critical component for women to be the best version of themselves. That is why we have invited Cindy Tschosik, Speaker, Writer, and Author, to speak at our April FAB event. Through real-life stories, humor, and practical lessons, you will recognize mental health symptoms, solutions, and soundbites.
Once we learn and recognize how we may be living, acting, and feeling, we realize that we don't have to struggle as much as we do. We can then take action to shift to make our lives better.
In this presentation, you will:
Recognize the SYMPTOMS of mental health challenges.

Learn the path of SOLUTIONS to mental wellness.

Practice SOUNDBITES of what to say to yourself or others to request or offer help.
Leave this virtual experience armed with life-giving knowledge that will help you and your loved ones connect the dots to mental wellness!
As always, we will have FAB rooms and time to chat, connect and learn from one another. We Zoom FAB STYLE!
"Three Mental Wellness Checks Per Day Keep the Storms at Bay" – Cindy Tschosik
Oh! if you are a first-time guest, please contact us for complimentary registration.
THANKS TO OUR CORPORATE SPONSORS: