When:
April 9, 2021 @ 9:00 am – 11:00 am
2021-04-09T09:00:00-04:00
2021-04-09T11:00:00-04:00
Where:
zoom.us (link will be provided after registration)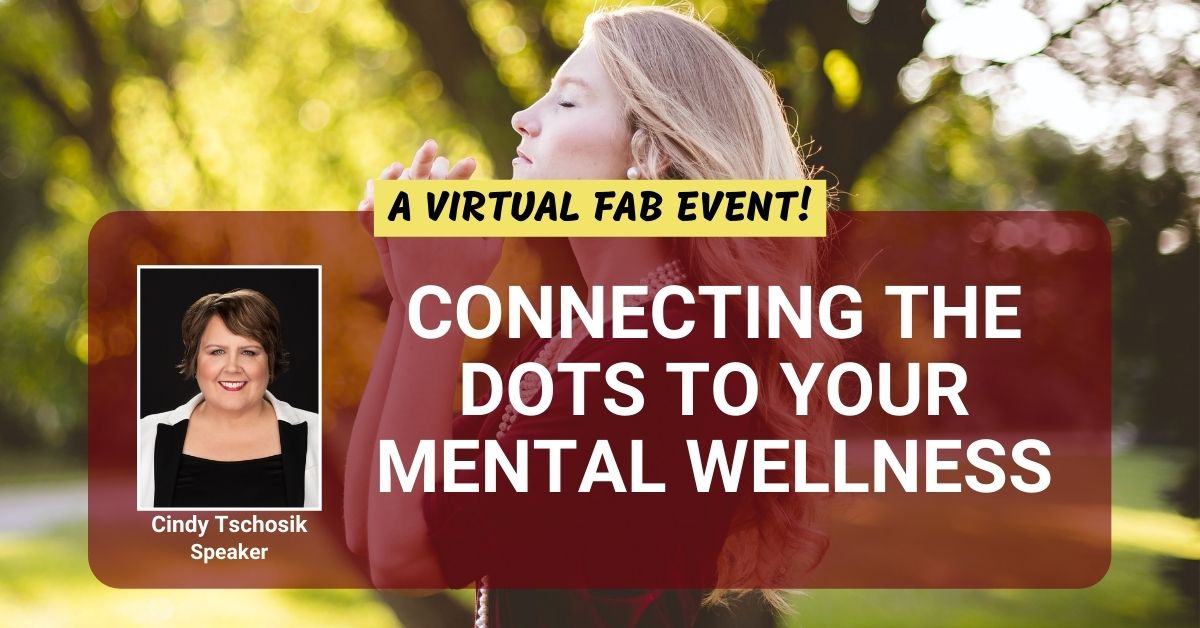 Did you know last year was the year for everyone to take a serious look at mental health and how to apply best practices?
Did you know that mental wellness checks are as important as brushing your teeth?
Oftentimes through life, we accept our behaviors, feelings, and frustrations as our "new norm" without even realizing it. We can lose who we are by going with the motions and living a less-than-ideal life.
FABWOMEN knows mental health is a critical component for women to be the best version of themselves. That is why we have invited Cindy Tschosik, Speaker, Writer, and Author, to speak at our April FAB event. Through real-life stories, humor, and practical lessons, you will recognize mental health symptoms, solutions, and soundbites.
Once we learn and recognize how we may be living, acting, and feeling, we realize that we don't have to struggle as much as we do. We can then take action to shift to make our lives better.
In this presentation, you will:
Recognize the SYMPTOMS of mental health challenges.

Learn the path of SOLUTIONS to mental wellness.

Practice SOUNDBITES of what to say to yourself or others to request or offer help.
Leave this virtual experience armed with life-giving knowledge that will help you and your loved ones connect the dots to mental wellness!
As always, we will have FAB rooms and time to chat, connect and learn from one another. We Zoom FAB STYLE!
"Three Mental Wellness Checks Per Day Keep the Storms at Bay" – Cindy Tschosik
Oh! if you are a first-time guest, please contact us for complimentary registration.
*** REGISTRATION CLOSED ***
THANKS TO OUR CORPORATE SPONSORS: