When:
July 10, 2020 @ 9:00 am – 11:00 am
2020-07-10T09:00:00-04:00
2020-07-10T11:00:00-04:00
Where:
zoom.us (link will be provided)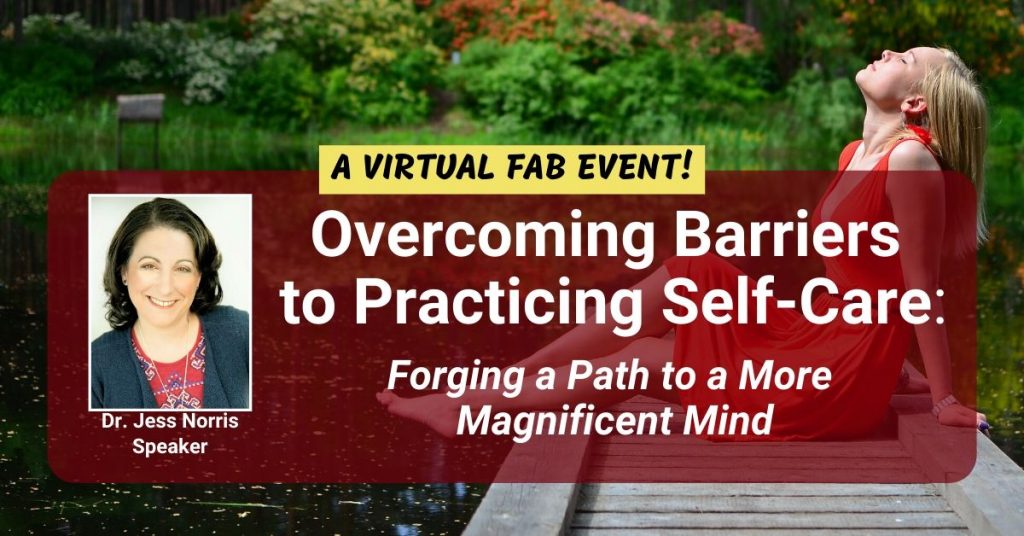 Let's face it – you're really busy doing all the things. Between work and taking care of others, you barely have time to breathe! Self-care ends up at the bottom of your to-do list – and your mental and physical health suffers as a result. But there's good news! You can overcome barriers to practicing self-care and forge a path to a more magnificent mind!
That's why for our July FAB event, we have asked the one and only Dr. Jess Norris, your "Stress Management Scientist," to be our speaker and share her expertise in an interactive, fun, and educational way. Dr. Jess has a PhD in chemistry and has combined her interest in neuroscience with over 15 years of analytical research experience studying the science of stress reduction. She is a sought-after public speaker, consultant, and kind of a big deal! 😀
When you attend this event, not only will you learn that self-care should be a priority because it makes you more productive and healthier, but you will also learn how to overcome barriers to practicing self-care. At the very least, you're going to have a good time!
The three major takeaways you will get:
Why stress management and self-care are so crucial to overall health
3 common obstacles and excuses that prevent us from real self-care
How to establish long-term self-care routines that you can follow – in as little as 7 minutes a day!
Go ahead, and register below.
Oh! and if you are a first-time guest, please contact us for complimentary registration.
---
THANKS TO OUR CORPORATE SPONSORS: