When:
May 14, 2021 @ 9:00 am – 11:00 am
2021-05-14T09:00:00-04:00
2021-05-14T11:00:00-04:00
Where:
Airmeet.com (link and instructions will be provided after registration)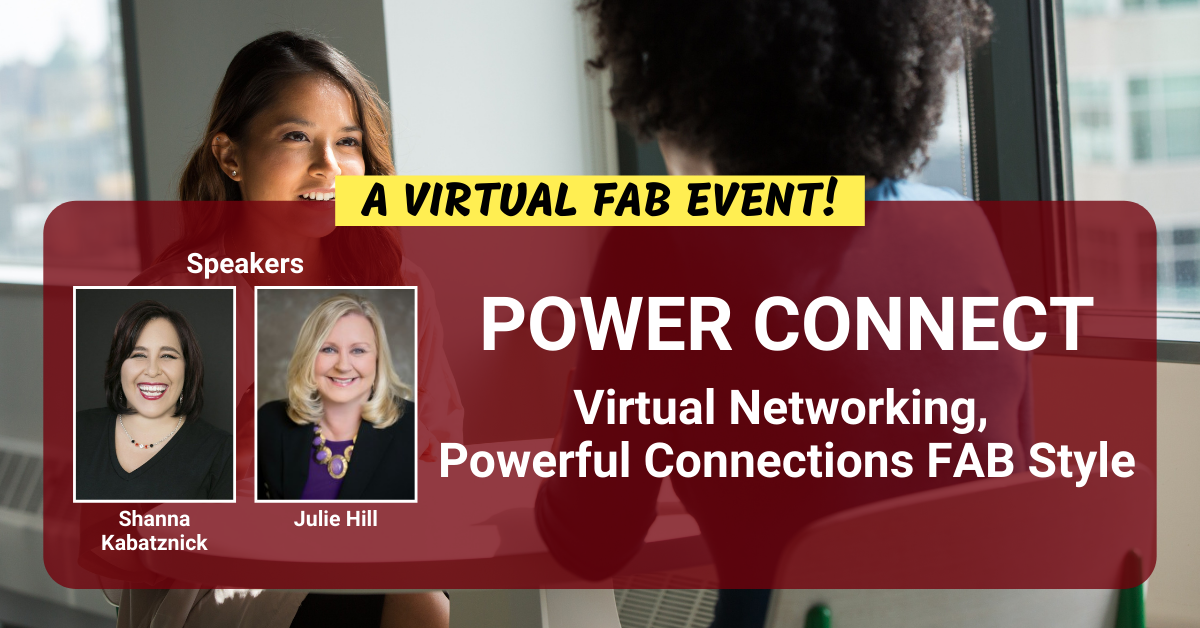 Yes! You read it right "Virtual Speed Networking" it can be done, and it can be effective. We understand some of the emotions that you may feel; fear? Anxiety? Or better yet, how? And We wouldn't blame you. Networking can be just plain uncomfortable without adding virtual to the mix. However, Virtual Networking is here to stay, and when done right, it can help grow your business and connections. The trick is to do so while maintaining authenticity. So, we decided to change things up a bit and add our FAB special sauce to ease your comfort and help you pivot from "networking" to CONNECTING.
Join Shanna Kabatznick, Founder and CEO of FABWOMEN, and Julie Hill – Sr. VP and Director of Sonabank POWER as they share with you their connecting success stories. Not only will you hear their stories, but you will be able to apply what you learned in a virtual environment that is fun, engaging, and FABulous!
Virtual Power Connect 2.0. Allows you to cultivate connections the right way, harnessing your Fearless, Authentic, and Bold self. Don't worry if you haven't perfected your 60-second delivery; FAB has you covered! We will provide you tips on creating your 60-second W.O.W.™ statement. Whether you're an introvert or extrovert, this event will fuel your energy and confidence when needing to network- in person or virtually. At this event, you will:
Learn from the connecting experts on strategies that worked for them.

Meet women from all over the country and connect with them!

Tips on how to craft your "60-second intro."
Get ready to stop networking and start connecting. Register below.
Oh! if you are a first-time guest, please contact us for complimentary registration.
THANKS TO OUR CORPORATE SPONSORS: