At 9AM sharp, I enter my client's office for our scheduled organizing session. As I look around, I'm drawn to the unusual combination of artwork decorating her walls. Between prints by M.C. Escher, a lone, unframed sheet stands out, thanks to its bold Crayola colors. With first grade finesse, her son has drawn a simple but powerful depiction of the life cycle of a plant moving from seed, to sprout, to harvest. Looking at his masterpiece, I'm struck by the correlation between the work that my team and I do and this basic life lesson.
As organizers, we spend most of our time in non-functional spaces. We're usually called in when things are at their worst, when the client feels like there's no way out but can no longer take the pain of staying put. What clients don't realize is that stress and overwhelm frequently signify an impending period of growth – the next phase in their business life cycle.
Regardless of whether the rhythm of contraction and expansion of businesses aligns with the seasons of the calendar year, we can all see spring shining through our work during times of growth and development. Successful growth is followed by the fullness of summer, a celebration of spring's progress. Reaping the benefits of our hard work, we see bounty and prosperity in fall's harvest. And inevitably, we all experience winter's post-harvest, inward contraction – our opportunity to reset and regroup as we prepare for spring to cycle around once more.
To make the most of each season, our spaces need to complement the current phase of our life cycle. An office full of clutter (the buildup of postponed decisions) cannot support spring's innovation.
So as the world awakens this month, I encourage you to take an honest look at your office. Are you holding on to postponed decisions, old documents, or outdated materials? Let them go! Clear, organized spaces will give you the solid foundation and structured framework essential for growth and prosperity. Set your spaces up for success, welcome in spring, and watch your business thrive.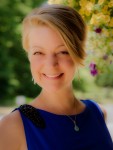 ABOUT THE AUTHOR:  Erin Podbielniak, President & Principal Organizer of theNeatNiche, works with clients to leverage organizing principles and implement custom-designed systems for improved productivity, peace of mind, and personal and professional success.  Visit Erin's website to learn more: theNeatNiche