When:
November 24, 2020 @ 7:30 pm – 9:00 pm
2020-11-24T19:30:00-05:00
2020-11-24T21:00:00-05:00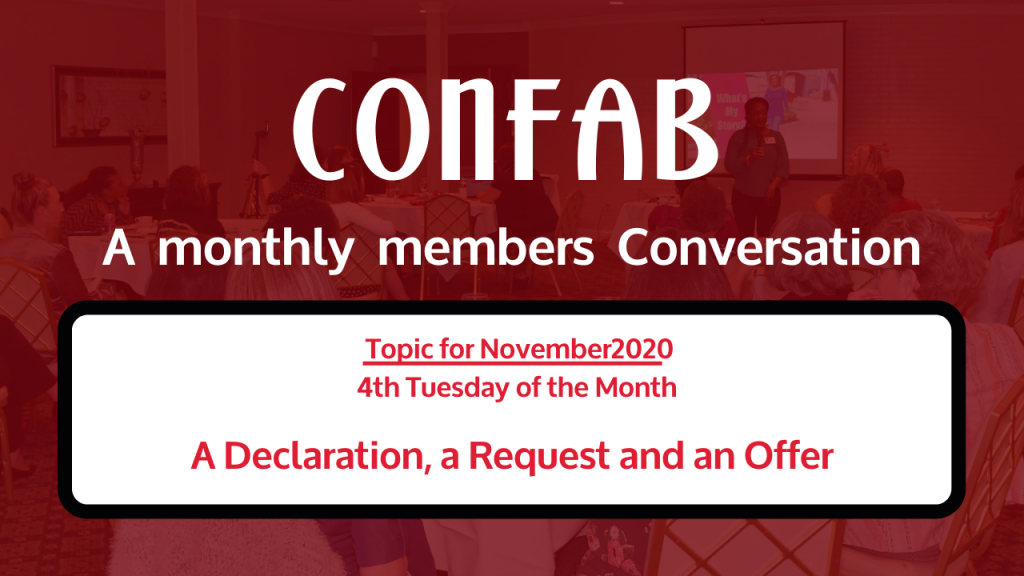 ConFAB is a virtual conversation with FABmembers from around the world. Exclusive for FABWOMEN members, it is held on the 4th Tuesday of each month.
Explore Our November ConFAB Topic:
A Declaration, a Request, and an Offer
As we head into the last month of the year, we are going to give each other the gift of a little time.
This is your opportunity to make a declaration and have it heard.  Are you planning something big for 2021?  ("I will triple my income this year.") Is there something small you just want us all to hear?  ("I am going to clear off the kitchen counter this week.").
This is also your opportunity to make a request- for  resources, ideas, opinions or support.  Again, it can be big or small.
And then, finally, this is your opportunity to make an offer.  It might be an offer in response to someone else's request or it might be an offer you come prepared to make.
Join us as we support each other and bring…
A declaration,
A request,
And
An offer
*** Registration is not required to attend ConFAB. Please check the event page in our FABWOMEN Members Only group on Facebook for the Zoom link so you can join in the conversation on November 24th. ***